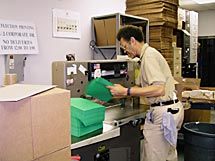 Reflection Printing is a combination of people and processes – all geared toward getting your job completed in a timely manner. Here, we've created a workflow 'roadmap' to give you a better view of our business:
Estimating – You can call, e-mail, fax or hand-deliver your 'specs' for a proposed print job and we'll prepare a price quote for you. In general, we need to know the type of piece (envelope, letterhead, booklet, etc.), the finished size, the type of paper, how many colors of ink, the total quantity of units to be printed and how the artwork will be delivered.
Pre-Press – Our Pre-Press Department will review your file for print-compatible issues and create a proof for your review and approval. We are Mac and PC compatible and utilize the latest versions of popular graphics software suites. Files can be uploaded to our secure FTP site or e-mailed to graphics@reflectionprint.com. Our CTP output assures a very efficient workflow from pre-press to press.
Press Room – We offer the ultimate in press diversity and our press operators are skilled at executing the most challenging print techniques. Beautiful images, consistent color and attention to detail are hallmarks of our press capabilities.
Bindery – Our Bindery Department hums along like a well-oiled machine. Here, your job is trimmed, collated, folded, die-cut, glued and packaged with the greatest of care.
Sales and Administration – We hope the first faces you see at Reflection Printing will make a great and lasting impression on you and your organization. Our team is eager to meet your needs and help you establish a pro-active approach to your print program.