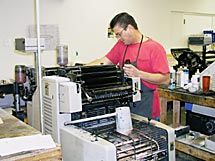 We utilize the most current technology in our industry. Our state-of-the-art equipment allows us to provide our clients with high-quality products faster and less-expensively than our competition.
Pre-Press Department
Utilize latest releases of all popular graphic software suites
Mac and PC compatible
Computer-to-Plate output
File Transfer Protocol (FTP)
Scanner
Press Room
Komori 4-color press – our Komori produces vibrant and consistent color that will make your print pieces stand apart from the crowd. Pocket folders, booklets, long-runs of marketing and advertising collateral and specialty pieces are a perfect fit for this press.
Ryobi small 4-color press – a well-kept 'secret,' this 4-color press is a dynamic choice for small full-color jobs and envelopes.
Ryobi 2-color press – this versatile press can churn out the 'best of the basics' all day long and has a firm grip on tight registration.
Duplicators with T-heads – these work-horses are great for long runs on forms and stationery packages.
Digital printing – an amazing alternative that produces great results for your small-quantity print needs!
Bindery Department
Saddle Stitcher
Folder/Gluer
Cylinder Letterpress
Accufast KT2 Tabber
Cutters
Shrink Wrap
Packaging and Boxing
Hand-bindery work for custom jobs
Quality control checks